I am so happy with my new stamps! Our preorder was limited and there were only a few stamps that I liked. The order I placed when the catalog was live was super fun and I have been stampin' a lot! Today's card is totally tropical! My "self" arrived as I finished and ask why did you fussy cut those flowers when the bundle has a die. Well, whatever! I told my conscious to get lost, I liked fussy cutting! I would never admit, I just started stampin' and never looked at the dies. Besides, I would have probably trimmed it anyway so no white would show. I just saved myself a step!
I stamped the flowers on the card front in Mango Melody, and then again in Lovely Lipstick. I cut the stamen of the Lovely Lipstick ones and glued them down over the Mango Melody in the card front. To get the multicolored palm leaf under them, I first stamped in Lemon Lime Twist and then with a dauber light tapped the stamp with Mango melody to give a variegated look.
Supply List
ALSO, follow my BLOG and FACEBOOK page for my monthly host code. Whether you order online or by emailing me your order all customers receive a monthly gift from me. No minimum order is ever required.
Free gift this month is Share what you love Artisan Pearls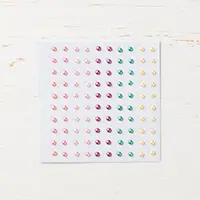 <
This month's Hostess code
BBD2PTVN